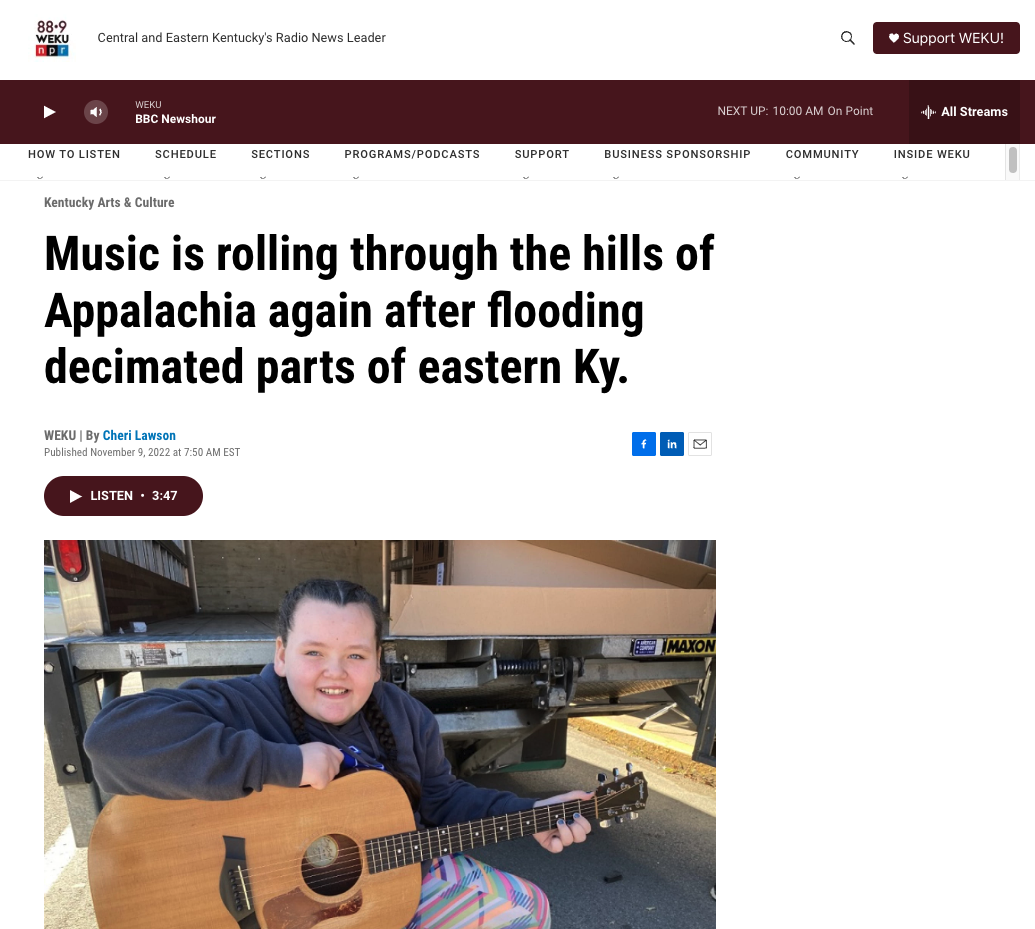 Photos & Video B-Roll Gallery for TV & Media [click to view/download]
"Let's not underestimate the comfort music and art can bring to families and neighbors in a time of great loss."
– Michael Johnathon, WoodSongs Host & Executive Producer
RICHMOND, Ky. (May 17, 2023) — WEKU-FM, an NPR affiliate based in Richmond, Kentucky was recently awarded six regional Edward R. Murrow awards, one of which was for their reporting on the WoodSongs Flood Relief Program which collected, refurbished and distributed FREE musical instruments to the residents and victims of the Eastern Kentucky floods in the fall of 2022. WEKU reporter Cheri Lawson followed the story from its announcement to the distribution of the instruments which took place on October 29, 2022 at Knott County Central High School in Hindman, Kentucky.
To read or listen to the WEKU story, visit https://www.weku.org/kentucky-arts-culture/2022-11-09/music-is-rolling-through-the-hills-of-appalachia-again-after-flooding-decimated-parts-of-eastern-ky
Lexington Herald Leader senior reporter Valarie Honeycutt also reported on the program, profiling two instrument recipients.
WYMT-TV in Hazard, Kentucky also reported on the story.
To read and download photos from the press release for the October 29 distribution date in Hindman, Kentucky visit: https://jwamedia.com/michael-johnathon-woodsongs-kentucky-flood-victims/
About WoodSongs Old-Time Radio Hour: 
WoodSongs Old-Time Radio Hour is an all volunteer, live audience celebration of grassroots, bluegrass, country and folk music and the artists who make it. Produced 44 Mondays per year from the historic Lyric Theatre in Lexington, Kentucky the show airs worldwide on 537 radio stations from Australia to Ireland and across the United States. It also airs on American Forces Radio Network twice each weekend in 177 nations, every military base and US Naval ship around the world. It is broadcast into millions of homes as a public television series on KET in Kentucky and PBS stations coast-to-coast, nationwide every Friday on RFD-TV, America's Most Important Rural Network.
# # #