Plus, Phoebe is set to unveil honorary exhibit at Kentucky Music Hall of Fame & Museum on August 12; Media & Journalists RSVP on EventBrite for limited reserved seating
NASHVILLE, Tenn. (July 27, 2023) – Phoebe White, America's 13-year old yodeling cowgirl from Kentucky is thrilled to announce that she will be joining America's favorite Cowboy's Riders In The Sky, for a special guest performance on the world famous Grand Ole Opry on Wednesday, August 02, at 7pm CT. Phoebe and Riders In The Sky are anticipated to perform Ranger Doug's song, "Phoebe, the Yodeling Cowgirl," a modified version of the Toy Story 2 hit song, "Jessie, the Yodeling Cowgirl."  Show information and tickets are available at opry.com, and fans can tune-in to listen live on WSM Radio.
"Getting invited to perform on the Grand Ole Opry with Riders In The Sky is a dream come true!" Phoebe said. "I can't think of anything else I'd rather do! I remember when Woody Paul first mentioned it to me 5 years ago, I could hardly believe that I might actually get to sing on that historic stage one day. And now to see that dream become a reality is thrilling! I'm just so excited!! I can't wait!!! I am so thankful to my family & friends who have supported me & worked to make this possible. Most of all, I thank God for this amazing opportunity!!"
Phoebe is in the midst of a whirlwind year which has seen the young Western influenced songstress grace many different stages, winning numerous talent competitions, along with receiving critical acclaim and industry recognition for her 10-song debut album UnXpected, out now by PoetMan Records and The Orchard. The album features recorded performances with Riders In The Sky, The McClain Family Band & Folksinger Michael Johnathon who also produced the album. UnXpected recently broken into the Top 10 of Western Way Magazine's Cowboy / Western Albums Charts,  her song "BooHoo Blues" also made the Top 10 of most played songs by Western Music DJs. 
Phoebe's unique yodeling skills and vocal gymnastics have also landed her various TV and media appearances, including WoodSongs Old-Time Radio Hour, where she first performed with Riders In The Sky and has been a WoodSongs Kid favorite since 2018. Plus, appearances on the Emmy award winning show Teen Kid News, WLEX-TV's "Best of the Bluegrass," WDKY-TV's "Spirit of the Bluegrass," NPR's "All Things Considered," and has been featured in Wide Open Country, Guitar Girl Magazine, Cross Country USA Magazine, and Kentucky Country Music.
Phoebe is also set to unveil a special one year honorary exhibit at the Kentucky Music Hall of Fame & Museum in Renfro Valley on Saturday, August 12 at 12pm ET. The exhibit will be revealed in a FREE to attend public event with Phoebe on-hand to speak and sing some songs. Click here for further details and media assets. Limited reserved seating is available for the media, please RSVP on EventBrite.
Shows & Appearances:
AUG 02 – Grand Ole Opry / Nashville, Tenn.
AUG 03-05 – Roy Rogers Festival / Portsmouth, Oh.
AUG 10 – Fox 56's "Live From Chevy Chase" on WDKY-TV / Lexington, Ky.
AUG 12 – Kentucky Music Hall of Fame & Museum / Mt. Vernon, Ky.
AUG 25 – Food Truck Friday Series / Prospect, Ky.
SEPT 09 – Kentucky Music Hall of Fame & Museum / Mt. Vernon, Ky.
SEPT 23 – Share the Journey concert / Cincinnati, Oh.
SEPT 24 – Children in the Arts / Knoxville, Tenn.
NOV 08-12 – International Western Music Association convention / Albuquerque, N.M.
** For Phoebe's most updated show and appearance schedule, follow on BandsInTown or visit SingPhoebeSing.com 
About Phoebe White:
Phoebe is a dynamic 13 year old self-taught yodeler with an extensive vocal range, and who also enjoys playing guitar, mandolin, piano, ukulele, banjo, and more. Her love of music spans many different generations and genres, but her favorites are country, western, gospel, bluegrass, and R&B. Her bubbly personality, poise on stage, powerful voice, and energetic performances are simply captivating! Phoebe is inspired by music pioneers who have gone before her. One of her goals is to perform on the Grand Ole Opry, and she is deeply grateful for every opportunity to perform no matter where it is. Phoebe has performed with Grammy award winners Riders in the Sky, Suzy Bogguss, and shared the stage with Michael Johnathon, David McLean, bluegrass band of the year The Farm Hands, members of Chicago, The Doobie Brothers, New Grass Revival, The McLain Family Band, & more. She has performed in Nashville, on national TV, and worldwide radio; appeared on Best of America by Horseback on RFD-TV; plus was featured at the country music capital of Kentucky: Renfro Valley, The Kentucky Opry, and the Kentucky Music Hall of Fame. Phoebe also likes to dance, swim, & go camping with her family. However, Phoebe's most favorite thing to do is entertain live audiences, which she has been doing since 2017.
# # #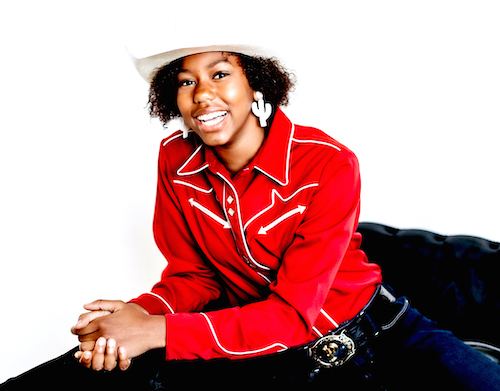 [Photo: Jonah Deaton | Download JPG]