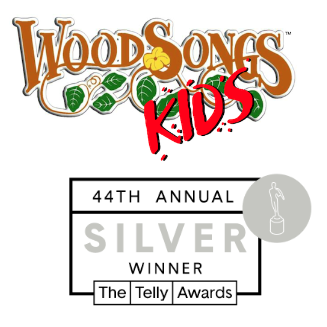 "Mr. Rogers meets the Grand Ole Opry"
LEXINGTON, Ky. (May 23, 2023) — Folksinger Michael Johnathon and the all-volunteer production crew of the nationally syndicated radio and TV broadcast WoodSongs Old-Time Radio Hour is excited to announce becoming a Silver Winner of the 44th Annual Telly Awards, for their new spin-off TV series, WoodSongs Kids. 
The Telly Awards honors excellence in video and television across all screens and is judged by leaders from video platforms, television, streaming networks, production companies and including Adobe, BBC World Service, Netflix, Dow Jones, Complex Networks, Jennifer Garner, A&E Networks, Hearst Media, Nickelodeon, National Geographic Society, ESPN Films, RYOT, Partizan and Vimeo.
The format of WoodSongs Kids, described as "Mr. Rogers meets the Grand Ole Opry," is a live audience broadcast exclusively for young performers from across America
WoodSongs Kids began airing on PBS affiliates in May 2023, and produced at the Lyric Theater in Lexington, Kentucky. Similar to the original WoodSongs Old-Time Radio Hour, WoodSongs Kids features numerous kid musicians ages 6-16, from all over the country, along with folksinger Michael Johnathon who opens each show singing with his 8 year old daughter Makayla Rayne and interviews the young musicians through the 30 minute show.

"We have featured young kids on every WoodSongs broadcast for years, making it a highlight of the show every week," Johnathon said. "WoodSongs Kids is devoted exclusively to the kids of America's front porch."
With a global partnership with the Department of Kentucky Tourism, VisitLEX and Martin Guitars, an extended residency for the next five years at the historic Lyric Theatre and a recently installed exhibit at the Kentucky Music Hall of Fame, WoodSongs continues to grow its radio affiliate base, enhance its online presence, and expand its large TV audience.  WoodSongs invites people from around the world to visit and experience the welcoming "front porch" of Kentucky, which is at the crossroads of America's folk, country and bluegrass music communities. 
For official show information, production updates and to watch and listen to the first season on the new WoodSongs Kid series visit WoodSongsKids.org
The full list of the 44th Annual Telly Awards winners can be found at TellyAwards.com/winners 
About The Telly Awards:
The Telly Awards is the premier award honoring video and television across all screens. Established in 1979, The Telly Awards receives over 12,000 entries from all 50 states and 5 continents. Entrants are judged by The Telly Awards Judging Council—an industry body of over 200 leading experts including advertising agencies, production companies, and major television networks, reflective of the multiscreen industry The Telly Awards celebrates. Partners of The Telly Awards include Green The Bid, SeriesFest, Video Consortium, Ghetto Film School, We Are Parable, Future of Film, NAB, Stash, NYWIFT, Production Hub with support from The Commercial Director's Diversity Program.
About WoodSongs:
WoodSongs Old Time Radio Hour is an all-volunteer, live audience celebration of grassroots, bluegrass, country and folk music and the artists who make it. Produced 44 Mondays per year from the historic Lyric Theater in Lexington, Kentucky the show airs worldwide on 537 radio stations from Australia to Ireland and across the United States. It also airs on American Forces Radio Network twice each weekend in 177 nations, every military base and US Naval ship around the world. It is broadcast into millions of homes as a public television series on KET in Kentucky and PBS stations coast-to-coast, nationwide every Friday on RFD-TV, America's Most Important Rural Network, and streaming on several online services including YouTube.
 # # #
Photo/Art Assets: