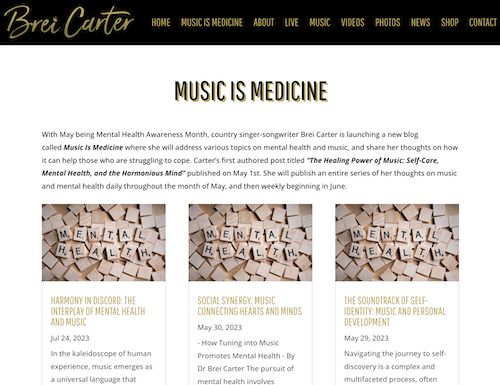 "I wanted to honestly bring a greater awareness to the fact that music really is medicine."
– Brei Carter
Read first published post "The Healing Power Of Music: Self-Care, Mental Health and the Harmonious Mind" now at BreiCarter.com/MusicIsMedicine
NASHVILLE, Tenn. (May 1, 2023) – With May being Mental Health Awareness Month, country singer-songwriter Brei Carter is launching a new blog called Music Is Medicine at BreiCarter.com/MusicIsMedicine, where she will address various topics on mental health and music, and share her thoughts on how it can help those who are struggling to cope. Carter's first authored post titled "The Healing Power Of Music: Self-Care, Mental Health and the Harmonious Mind" published today. She will publish an entire series of her thoughts on music and mental health daily throughout the month of May, and then weekly beginning in June.
"Mental health is crucial to our overall well-being, and taking care of ourselves should always be a top priority," Carter says. "Music can be a powerful tool in this regard, providing a therapeutic outlet for our emotions and a source of comfort during difficult times."
Aside from being one of Nashville's eyebrow-raising singer-songwriters, Carter is also a U.S. Army veteran who holds a Doctorate in Theology from New Foundation Theological Seminary. Other than music, the up-and-coming country songstress also leads a successful career within the medical industry, which is her inspiration behind bringing both of her life's callings together. 
As a country recording artist, Brei Carter is known for recording music with messages that are uplifting, empowering, storyful, positive and oftentimes intends to speak directly to her listener. One song in particular which demonstrates this notion is her 2022 single, "Stronger Than That" from her debut album, Brand New Country. Carter will release her next original song, "Straight Up Country Crazy " on June 9 via Brown Lee Entertainment & The Orchard. 
"By incorporating music into our self-care routines, we can improve our mental health and nurture a greater sense of inner peace and harmony," she continued. "I wanted to honestly bring a greater awareness to the fact that music really is medicine."
Forthcoming blog topics include:
May 02: "The Connection Between Music and Mindfulness"
May 03: "The Power of Music in Coping with Trauma"
May 04: "The Impact of Music on Anxiety and Depression"
May 05: "The Connection Between Music and Sleep"
May 06: "Music Therapy for Children with Autism"
May 07: "Music and Addiction Recovery"
May 08: "Music and Aging: The Benefits for Older Adults"
May 09: "How Music Can Help Heal Trauma and PTSD"
May 10: "How Music Can Promote Mindfulness and Inner Peace"
May 11: "How Music Can Help Improve Mood and Boost Self-Esteem"
May 12: "The Healing Power of Rhythm"
May 13: "The Impact of Drumming on Mental Health"
May 14: "The Healing Power of Nature Sounds"
May 15: "The Benefits of Binaural Beats on Mental Health"
May 16: "The Meditative Power of Music and its Effect on Mental Health"
May 17: "The Universal Bond: Music as a Means of Social Connection and Mental Health Enhancement"
May 18: "Music as a Motivation Booster: How it Influences Mental Health"
May 19: "The Impact of Music on Concentration and Mental Health"
May 20: "The Harmonious Connection: Mental Health and Music"
May 21: "Hitting the Right Note: Mental Health and the Power of Music "
May 22: "Melodies for the Mind: How Music Improves Mental Health"
May 23: "Tuning Into Mental Health: The Impact of Music on Our Minds"
May 24: "Music as a Pathway to Mental Wellness"
May 25: "The Therapeutic Effects of Music on Mental Health"
May 26: "Music and Mindfulness: Alleviating Anxiety with Melodies"
May 27: "A Symphony of Serotonin: Music's Impact on Mood"
May 28: "The Creative Connection: Music and Mental Clarity"
May 29: "The Soundtrack of Self-Identity: Music and Personal Development"
May 30: "Social Synergy: Music Connecting Hearts and Minds"
May 31: "Mental Health and Music: The Harmonious Prescription"
About Brei Carter:
Emerging crossover country and southern pop recording artist Brei Carter is proof that sometimes faith, patience and time pays off. Growing up in Monroe, Louisiana with a solid, southern upbringing, Brei's family raised her on several authentic southern staples: the Bible, Lone Star Missionary Baptist Church's choir, Charley Pride, Loretta Lynn, Aretha Franklin, and no shortage of familial love and devotion. However, before she became the dynamic and vivacious country singer she is today, Brei was busy earning a Bachelors in Business from University of Louisiana in Monroe, a Masters in International Relations from Webster University, and a Doctorate in Theology from New Foundation Theological Seminary. She is also a proud Veteran of the U.S. Army, where she served as an enlisted soldier and as an officer. Having moved to Nashville soon thereafter, Brei has quickly established herself in the songwriters community as a smooth and sometimes edgy songstress who melds country, soul and southern pop into one fused style. Her first single at country radio "Gave Him A Girl" was immediately recognized as "cute and catchy" by country music journalist and historian Robert K. Oermann in his weekly DISClaimer review column for Music Row Magazine, where it eventually charted up to #71. With a growing catalog of new music, including her debut album Brand New Country, which was released in Fall 2022, this young singer-songwriter is a welcome addition to the emerging new styles of the country music community.
# # #