Why Not Me The World ranks in Top 1% of podcasts worldwide by Listen Notes, with audiences in more than 20 countries & 140 cities
Plus, new episodes available now featuring country singer-songwriter Brei Carter, author Faria Arsh, and autistic person Samuel Huber
TUNE-IN: Tony Mantor talks about the podcast's popularity on WSMV-TV's "Today In Nashville"
NASHVILLE, Tenn. (September 06, 2023) – In recognition of National Suicide Prevention Week, acclaimed Nashville based Music Producer Tony Mantor will release episode #7 on Sept. 06 at 5pm CT of his highly popular podcast on autism, Why Not Me The World. In the new episode his focus is on suicide among autistic people, with his guest being Doctor Rachel Moseley, a UK based Psychologist at Bournemouth University who studies the neurodevelopmental condition affecting millions of people worldwide. In the episode they discuss the commonality of no diagnosis, expectations of fitting in socially, the difference in signs of depression between autistic people and neurotypical, and how autistic people are nine times more likely to die by suicide than non-autistic people.
"Suicide is said to be the hidden crisis for autistic people," Tony said. "I hope this episode will bring awareness to this very difficult subject, and I hope it will help those who may consider suicide to let them know there is help available and they are not alone."
With more than 3 million podcasts available on the global market today, Why Not Me The World is currently ranked in the Top 1% worldwide according to Listen Notes. Reaching listeners in more than 20 countries and over 140 cities around the world, Mantor has received a positive reaction from listeners so far with many citing the podcast as helping to bridge the gap in awareness, acceptance and understanding of the condition.
Why Not Me The World is available now on all major podcast outlets including Apple Podcasts, Spotify, Google Podcasts, all other major podcast platforms, and TonyMantor.com. 
Why Not Me The World Podcast Episode Schedule: 
June 28 – Tori Clarke / UK based artist and poet (

Listen/Download

) 

July 12 – Beth Tignor / Mother of autistic child (

Listen/Download

) 

July 26 – Paul Cimins / Founder & President,

Autism Radio

(

Listen/Download

) 

Aug 09 – Kyle Jetsel / Parent of two autistic children (

Listen/Download

) 

Aug 16 – Faria Arsh / Author of

Toilet Training for Autistic & SEND Children and Adults

(

Listen/Download

) 

Aug 23 – Brei Carter / Singer-Songwriter, Author at

Music Is Medicine

(

Listen/Download

) 

Aug 30 – Samuel Huber / Autistic person (

Listen/Download

)

Sept 06 – Rachel Moseley, PHD in Psychology, Bournemouth University 

Sept 13 – Ali Carbone  / Author of

What Are You Looking At

Sept 20 – Hope McPheeters / Co-Founder,

Autism Support Now

 

Oct 04 – Cannon Moore / Autistic Music Producer

Oct 11 – Jenny Crawford, BA, CHRL /

Autism Advocate Parenting Magazine

Oct 18 – George Bailey / President, Zpods & Father of three autistic children

Nov 01 – Howard Preistley / Music Director, Phoenix Radio (UK)

Nov 15 –  Victor Antunez / Author of

The Autism & Special Needs Relocation Blueprint

&

Parent of autistic daughter

Nov 29 – Patrick Sisk / ABA Therapist & Comedian 

TBA – Erin Murphy / TV Actress,

Bewitched

TBA

–

Tina Lee / Mother,

AGT

Winner Kodi Lee
About Why Not Me The World Podcast:
Autism is a complex neurodevelopmental condition that affects millions of people worldwide. It is characterized by difficulties in social interaction, communication, and repetitive behaviors. Although autism is becoming more widely recognized, there is still a lack of understanding and awareness surrounding the condition. As a result, many individuals and families affected by autism struggle to find the support and resources they need. Why Not Me The World podcast aims to bridge that gap by providing valuable information and insights into autism, fostering empathy and understanding, and promoting acceptance and inclusion. Nashville based Music Producer Tony Mantor explores the remarkable impact his guests make by empowering their voices in spreading awareness about autism and helping break down the barriers of understanding. Join Mantor and his guests as they delve into the world of autism and explore topics such as diagnosis, treatment, research, and personal stories. Together, we can create a more informed and compassionate society for individuals with autism.
 # # #
Watch WSMV-TV's "Today In Nashville" appearance: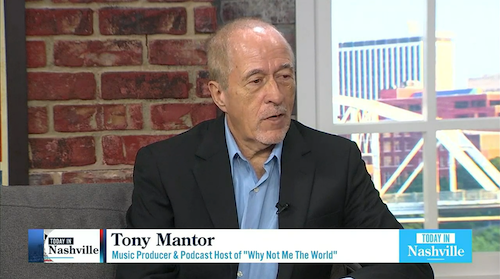 [click to watch on WSMV-TV]
Photo Downloads: