Song's video exclusively premiered on Country Rebel, Feb. 2 [Click to watch]; set to air Nationwide on The Country Network, beginning Feb. 8
"Love Hurts" & "It's A Heartache" WAV track available to Radio Programmers; please make request to Jwa@jwamedia.com
NASHVILLE, Tenn. – Sisters and best friends Mary-Keaton and Stella Render, an emerging harmonious teenage pop-country duo from Arkansas better known as Render Sisters, exclusively premiered a stunningly beautiful video by Country Rebel [click to watch] of their special medley of "Love Hurts," and "It's A Heartache." The song was recorded and produced by Michael Lattanzi, shot at his scenic Lattitude Studio South in Leipers Fork, Tennessee, with Carl Dielbold directing the video. 
"Love Hurts" was originally composed by legendary Nashville songwriter Boudleaux Bryant, and was first recorded as a harmony by The Everly Brothers who released it by Warner Brothers Records in 1960. The song has also been sung by Roy Orbison, Emmy Lou Harris & Gram Parsons, Cher, Jim Capaldi, Joan Jett, and most famously by Scottish rock band Nazareth, who turned it into a Top 10 hit in 1975.
"It's A Heartache" was originally written by British pop songwriter and producers Ronnie Scott & Steve Wolfe in 1977, and turned into an international Top 5 hit in 1978 by Welsh singer Bonnie Tyler by way of RCA Records. Juice Newton and Ronnie Spector also released their own versions of the song that same year. 
Tune-In: "Love Hurts" & "It's A Heartache" Air Dates on The Country Network:
Monday, Feb 8: 12:00pm, 6:35pm
Tuesday, Feb 9: 1:06pm, 7:28pm
Wednesday, Feb. 10: 8:22am, 3:42pm
Thursday, Feb 11: 7:26am, 10:26pm
Friday, Feb 12: 6:54am, 11:43pm
*Online + app times in Eastern (ET) & over-air TV are true to time zone viewer is in
*View all broadcast methods for TCN at tcncountry.net/where-to-watch.htm
About Render Sisters:
The Render Sisters are a young pop country duo from Pine Bluff, Arkansas who were influenced to become songwriters by their grandmother, a music teacher. Having graced many small town stages since elementary school, throughout their home state of Arkansas, these harmonious teenage southern songstresses are now ready for bigger stages. Their debut songs "Lost Boy," & "Count On Me Count On You" premiered in 2020, with the song's videos featured on The Heartland Network, The Country Network, and WGN-TV. They've also made national TV appearances on RFD-TV's Market Day Report and the Emmy award winning TV show, Teen Kid News. In 2021 they are set to release an emotional cover of "Love Hurts," along with several more original songs which showcase their harmonious God-given talents. Even prominent Music Row Magazine journalist Robert K. Oermann summarized in his weekly column, "Their talent is way beyond their years."

 # # #
Render Sisters Contacts:
Media & PR: Jason Ashcraft | JAshcraft502@gmail.com | (615) 991-1125
Booking & Management:  Bernard Porter | Bernard@pcgnashville.com | (615) 400-8321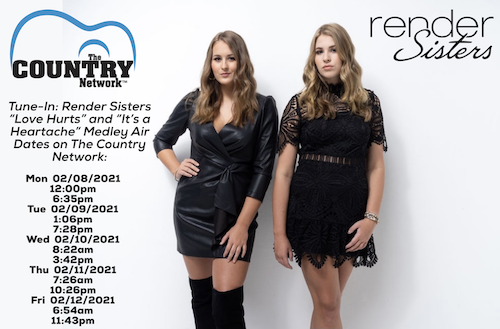 [Download PNG]