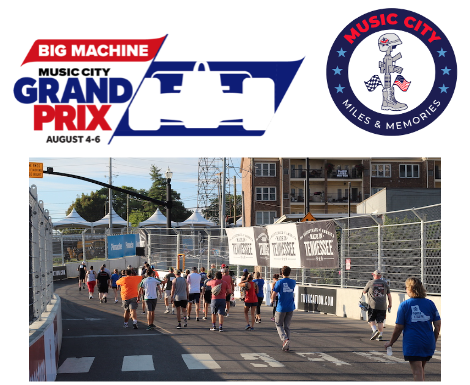 Participants may walk, run or military ruck the Big Machine Music City Grand Prix Racetrack in downtown Nashville on Saturday, August 5
TUNE-IN: MOH Executive Director Amy Cotta joins WSMV-TV's "Today In Nashville" on Thursday, July 27 at 2pm CT

Inaugural 2022 event photos + video B-roll for TV [view/download]

All media must register for credentials by July 21 directly with Big Machine Music City Grand Prix [click for application]
NASHVILLE, Tenn. (July 19, 2023) – Memories of Honor, a 501(c)(3) nonprofit veterans and Gold Star Family service organization based in Nashville, will host the second annual Music City Miles & Memories event on Saturday, August 5 during the Big Machine Music City Grand Prix. This one-of-a-kind patriotic on-track experience will allow participants to walk, run or military ruck the two mile course of the Big Machine Music City Grand Prix racetrack in downtown Nashville.

"We are beyond excited to team up again with the Big Machine Music City Grand Prix to offer this one-of-a-kind experience to honor our fallen military and their families," said Amy Cotta, Founder & Executive Director of Memories of Honor.
Registration fees are only $50 (before July 23) and includes a commemorative event T-shirt and one single-day general admission ticket (for Saturday, Aug. 5th) to the Grand Prix, including all the festivities, concert, and fireworks display.

"We are proud to partner with Memories of Honor to remember the heroes who served and protected us," said Jason Rittenberry, COO, Big Machine Music City Grand Prix. "This is a small token of appreciation to make their legacy remembered every day."

Music City Miles & Memories is open to the general public and is expected to sell out. Those wishing to participate may register by visiting musiccitymilesandmemories.com.
EVENT DETAILS
DATE:

August 5th, 2023

TIME:

 7:00 AM – 8:00 AM 

LOCATION:

Big Machine Music City Grand Prix race course –1st Ave South, Downtown Nashville

PARKING

:

Assorted local parking lots and area garages (on your own)

PACE:

You will have up to 55 minutes to complete the two-mile course. All foot traffic must be off the racecourse by 8:15 AM sharp! 

NO PETS

are allowed on the course. 

SUPPORTING:

Funds raised support Memories of Honor, a 501(c)(3) organization
EVENT DAY SCHEDULE 
6:00 – 7:00 AM: Packet pickup & Race Day Registration

7:00 – 8:00 AM: On-Track Ride / Walk / Ruck 

8:15 AM: Everyone must be off the track
**Please note this event is subject to change based on the Big Machine Music City Grand Prix schedule and weather. 
REGISTRATION INCLUDES 
Register

at musiccitymilesandmemories.com

Racetrack Street Access (without cars):

You can walk, run, or military ruck. Strollers welcome.

General Admission Ticket:

to Saturday (August 5) Big Machine Music City Grand Prix event, which includes all-day access to the festival grounds, fan zone, racing activities, and music performances.

Commemorative Event T-shirt
A Fallen Hero Memorial Bib:

Marathon-style bib containing the rank, name, branch, and date of passing of one of our Nation's fallen heroes. 
RACE TRACK MAP
About Memories of Honor:

Memories of Honor is a national 501(c)(3) nonprofit based in Nashville, Tennessee. Our mission is to make EVERY DAY Memorial Day. We use athletics, entertainment, special events, and social media campaigns to create living breathing memorials so that no loss of life in or due to military service is forgotten. MOH also produces other athletics events which honor military and veterans such as the Bataan Challenge, Social Distancing Challenge, Boots For Troops, 101 Heroes Ride, and others. Visit
memoriesofhonor.org
to learn more or to become involved. 
About The Big Machine Music City Grand Prix:
The Big Machine Music City Grand Prix is a three-day premier festival of racing and music from Aug. 4-6 featuring the NTT INDYCAR SERIES, Indy NXT, GT America, GR Cup, the Big Machine Spiked Cooler Trans Am TA2 Series and Stadium SUPER Trucks.  
Ticket Packages, Clubs and Suites are now available to watch the best INDYCAR drivers race for the Big Machine Music City Cup.  Fans can choose their optimal grandstand seat to watch as the drivers compete in the 80-lap, 2.1-mile, 11-turn course which races around Nissan Stadium, over the Cumberland River, and curves around downtown Nashville.  The adrenaline-fueled event will feature live music each day and culminate with a headline concert on Friday and Saturday nights.  
Ticket options are available at www.musiccitygp.com/tickets Other premium hospitality options can be purchased by calling (615) 270-8705 or via email at tickets@musiccitygp.com.
Tickets for the Big Machine Music City Grand Prix are digital, and all fans must adhere to the Nissan Stadium rules and regulations, including the clear bag policy.  
For a complete list of FAQs on ticketing, race weekend policies or for more information, please visit www.musiccitygp.com.
# # #
Photo & Video B-Roll for Media/TV: